Incorporating blended learning into the classroom has been so much fun for both the students and myself. It's also added an important element of formative assessment that I don't know how I'd do without now. If you're lucky enough to have some technology available for your personal classroom, you may want to think about blended learning for your classroom too.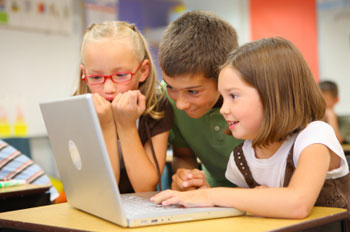 My students are blessed to have 1:1 laptops to use at home and at school. This provides a great opportunity to use technology often throughout our day. Here are a few ways that I easily incorporate technology into the classroom in meaningful and valuable ways:
1. I subscribe to Scholastic's Storyworks magazine and gain online access for myself and the students to not only a multitude of short passages in various genres but to their video clips that pair perfectly with their feature article. Students can compare and contrast the information presented.
2. Math workstations are a great fast and easy way to use technology. We've gone from practicing math facts with paper & pencil (which requires LOTS of my time grading) to using an online web-based program called Xtramath. It's free and easy to use for both you and your students. I also enjoy finding interactive websites and games for my students to use when practicing or reviewing math skills. These often provide instant feedback for students and require ZERO grading for you!
3. Seesaw is a new favorite for myself and my kiddos! It's an online student portfolio--kind of like Facebook for kids. It is best for iPads, which we don't have 1:1, but there are features that can be used with their laptops. Students are having fun recording audio and uploading work to show off. One of my favorite uses of Seesaw is for fluency checks. We all know that time is of the essence & there's never enough of it. Sometimes meeting with 2-3 small groups in one 90-minute block is the best one person can do, but having the students read a page of their chosen book provides me TONS of insight into their fluency skills and what needs to be worked on the next time I see them. I can quickly assess students using my phone (and from home), then pair students together for small group needs. Next week I'll be giving students some discussion/talking points to use with their reading to see how that goes. Seesaw really has made very clear who needs what skills--both in math and reading (plus it's fun)!
4. Padlet is another quick assessment that we've been using. This has come most frequently after reading minilessons where students are sent back to silent read but work on/think about/apply the skills just introduced. They can post their thoughts to a Padlet rather than use sticky notes or other paper exit slips. These save easily for me to refer back to, can be seen by others on Padlet in real time, and/or be displayed on a Smartboard for share-out discussions.
I hope you try some of these quick and easy ways to incorporate more technology into your classroom. I'd love to hear more of your ideas and way you get your kids connected and engaged!